Friday, January 06, 2012
BATMAN FRIDAY
Why We Love Detective Comics
Stories like "Die Small ... Die Big!"
This one is from Detective Comics #385, with a cover date of March 1969.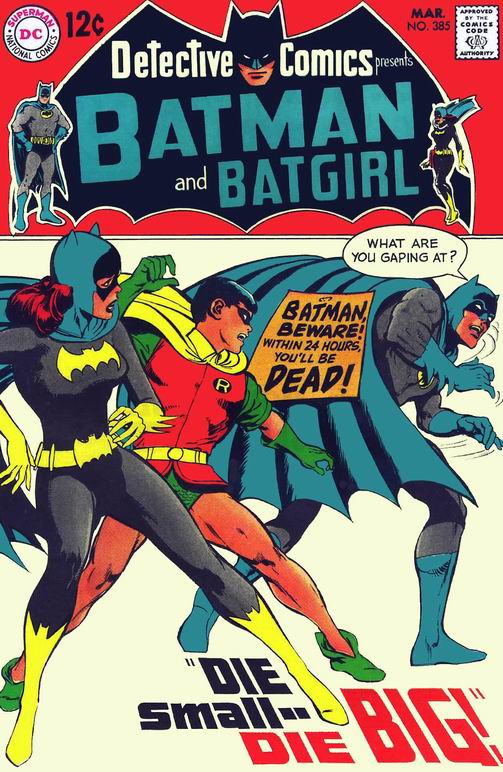 I have a copy of Detective Comics #385, but I first saw this story a long time ago, in the late 1970s. It was reprinted in Batman #257, which was published in 1974, but I bought it at a used bookstore a few years later.
Batman #257 is a great comic book, one of those 100-page giant that DC used to publish, with some crazy Bronze Age story along with a bunch of older stories, from the 1940 to the 1950s to the 1960s. Batman #257 has an insane Penguin story; a Joker story from the 1940s where they capture Batman and force Robin to pull off a bunch of crazy college initiation pranks in order to free the caped Crusader; an Alfred story (he had his own feature in the back of Batman comics in the 1940s); another crazy story called "Ally Babble and the Fourteen Peeves" about a guy named Ally Babble who is hired by an eccentric millionaire to take care of fourteen people who annoy him ... I'm going to make sure I didn't dream that last one because that summary looks awfully silly in print like that ...; a not-so-great story with great art by Gil Kane about a guy who gives Robin an awful beating and Batman has to track the guy down; and "Die Small ... Die Big."
The art in Detective Comics #385 is pretty awesome. "Die Small ... Die Big!" has art by Bob Brown. The backup Batgirl story has art by Gil Kane and Murphy Anderson. (And, yes, that's as awesome as it sounds.
"Die Small ... Die Big!" had quite an effect on me in my early teens. It doesn't have The Joker or The Riddler or anything like that. It's a more human story about one man's lonely existence and his efforts to use his dying moments to do something meaningful, like save Batman's life.
Herbert Small is dying. And no one will notice when he's gone. He's a mailman, with no family and no friends, he's just going to carry the mail until the end.
But at the end of a wild set of coincidences, he uncovers a plot to kill Batman. He has no idea how to warn Batman, so he leaves a mannequin at Wayne Manor with a note on it, warning of the plot. (I think he chose Wayne Manor because there was some kind of dinner there and Herbert Small knew Commissioner Gordon would be there.) The mannequin is a likeness of Batman and when the cowl is removed, Herbert Small's face is revealed. He has set himself up as bait for the conspiracy to kill Batman!
By the end of the 15-page tale, Herbert has drawn out the conspiracy and the bad guys show up to kill him. But the real Batman shows up and whomps on them. But Herbert manages to throw himself in front of one of the thugs and he takes a bullet meant for Batman. The Caped Crusader knocks the bad guy down and shows his face to the dying Herbert Small. Herbert dies, smiling, knowing that he has saved the life of Batman.
"He ... died ... happy," Batman says, a little choked up. "But Herbert Small didn't die ... small ... He died ...
BIG!
"
And in the final panel, you can see the tears running down his cheeks from under his cowl.
I didn't know comic books could be like this.
And that is one more reason why we love Detective Comics.
|
Monday, January 02, 2012
MONDAY MINI-CONCERT
|
Sunday, January 01, 2012
I, THE AUDIENCE: Movies I saw in 2011
THOSE SICILIAN WOMEN - Monica Vitti contemplates kicking your ass in the 1968 film "La ragazza con la pistola."
Here they are. All the films I saw in 2011. For the record, my favorite movie of 2011 was "The Rise of the Planet of the Apes."
Or maybe "The Cave of Forgotten Dreams."
Or "Hobo with a Shotgun." (It gets lots of extra points just for the title.)
1913-1920
1913
— The Drummer of the 8th * Grandad —
1914
— Kid's Auto Races in Venice * Cruel, Cruel Love * Film Johnny —
1915
— A Night Out * Shanghaied * The Coward —
1916
— King Lear —
1917
— Easy Street —
1918
— Triple Trouble —
1919
— Broken Blossoms —
1920
— One Week * The Scarecrow * The Cabinet of Dr. Caligari
1921-1930
1921
— The Three Musketeers —
1922
— The Paleface * Robin Hood —
1923
— The Hunchback of Notre Dame —
1924
— Aelita, Queen of Mars —
1925
— Go West —
1926
— Metropolis —
1927
— No Man's Law * Dog Heaven —
1928
— The Farmer's Wife * Spook Spoofing —
1929
— The Cocoanuts * Bulldog Drummond * Un Chien Andalou * Pandora's Box —
1930
— Juno and the Paycock * School's Out * A Tough Winter * Pups Is Pups * Teacher's Pet * Murder!
1931-1940
1931
— Frankenstein * Love Business * Helping Grandma * Little Daddy * Bargain Day * Fly My Kite * Big Ears * Shiver My Timbers * Dogs Is Dogs * Cimarron —
1932
— Behind the Mask * Grand Hotel * The Man Who Played God * Freaks * Readin' and Writin' * Free Eats * Choo-Choo! * Spanky * The Pooch * Hook and Ladder * Free Wheeling * Birthday Blues * A Lad an' His Lamp —
1933
— King Kong * The Death Kiss * The Kennel Murder Case * Fish Hooky * Forgotten Babies * The Kid from Borneo * Mush and Milk * Bedtime Worries * Wild Poses —
1934
— Maniac * Hi Neighbor * For Pete's Sake * The First Round-Up * Honky Donkey * Mike Fright * Washee Ironee —
1935
— Bride of Frankenstein * Mad Love * The Mystery Man * Bulldog Jack * The Three Musketeers * The Clairvoyant * Mama's Little Pirate * Shrimpe for a Day * Anniversary Trouble * Beginner's Luck * Teacher's Beau * Sprucin' Up * Little Papa —
1936
— The Great Zigfeld * The Devil Doll * Banjo on My Knee —
1937
— Think Fast, Mr. Moto * Charlie Chan at the Olympics * Fishy Tales * Our Gang Follies of 1938 —
1938
— The Big Broadcast of 1938 * Violent Is the Word for Curly * A Christmas Carol * Bear Facts * Three Men in a Tub —
1939
— Made for Each Other * Son of Frankenstein —
1940
— The Bank Dick * The Grapes of Wrath * You Nazty Spy! * No Census, No Feeling * Road to Singapore
1941-1950
1941
— I Killed That Man * An Ache In Every Stake * Pot o' Gold * How Green Was My Valley * Suspicion * The Black Cat * Man-Made Monster * Horror Island * The Devil Bat * Mr. and Mrs. Smith —
1942
— Bowery at Midnight * The Ghost of Frankenstein * The Living Ghost * Night Monster * The Corpse Vanishes * Yankee Doodle Dandy —
1943
— Mystery of the 13th Guest * Frankenstein Meets the Wolf Man * Captive Wild Woman * Watch on the Rhine —
1944
— House of Frankenstein * The Return of the Ape Man —
1945
— The Scarlet Clue * Detour * The Vampire's Ghost * Blithe Spirit —
1946
— Ziegfeld Follies * Duel in the Sun * Face of Marble —
1947
— Fear in the Night * Yankee Fakir —
1948
— Easter Parade —
1949
— Rope of Sand * All the King's Men —
1950
— Union Station * Tripoli * La ronde
1941-1950
1951
— The Man in the White Suit * Royal Wedding —
1952
— The Stooge * Jumping Jacks —
1953
— The Wild One —
1954
— Knock on Wood * Ulysses —
1955
— Bride of the Monster * Tarantula * Abbott and Costello Meet the Mummy —
1956
— The Mole People * The Killer Is Loose —
1957
— Desk Set * Crime of Passion * The Seventh Seal —
1958
— The Badlanders * The Robot vs. the Aztec Mummy * Cop Hater —
1959
— The Man in the Net * The Last Mile —
1960
— Blood and Roses * The Virgin Spring * Brides of Dracula * Alakazam the Great * The Minotaur * The Young One
1961-1970
1961
— Atlas in the Land of the Cyclops * Curse of the Werewolf * Through a Glass Darkly * A Woman is a Woman * Yojimbo —
1962
— King Kong vs. Godzilla * Electra —
1963
— The Great Escape * Jason and the Argonauts —
1964
— The Umbrellas of Cherbourg * La ronde * Onibaba * The Secret Invasion —
1965
— Dr. Terror's House of Horrors * Alphaville —
1966
— Torn Curtain * War of the Gargantuas * Fantastic Voyage * Who's Afraid of Virginia Woolf? —
1967
— Casino Royale * The Dirty Dozen * How I Won the War —
1968
— Single Room Furnished * Hour of the Wolf * La ragazza con la pistola (The Girl with the Pistol) * The Devil's Brigade * Flickorna (The Girls) —
1969
— The Babysitter * True Grit * Midnight Cowboy * The Wild Bunch * Fellini Satyricon —
1970
— Girly * The Dunwich Horror * The Private Life of Sherlock of Sherlock Holmes * Dodes'ka-Den
1971-1980
1971
— The Trojan Women * Diamonds Are Forever * Even Dwarves Started Small —
1972
— Frogs * Man of La Mancha * The Great Northfield Minnesota Raid * Aguirre, the Wrath of God * Cabaret * The Ruling Class * Fata Morgana —
1973
— Lady Snowblood * Tom Sawyer * The Three Musketeers: The Queen's Diamonds * Cleopatra Jones —
1974
— Vampyres * The Four Musketeers: Milady's Revenge —
1975
— The Magic Flute * Seven Beauties —
1976
— The Food of the Gods * Family Plot —
1977
— Empire of the Ants * Annie Hall —
1978
— Inglorious Bastards —
1979
— Life of Brian * Van Nuys Blvd. —
1980
— How to Beat the High Cost of Living
1981-1990
1981
— Caveman * The Howling * Nighthawks * Polyester —
1982
— Blade Runner * Fitzcarraldo —
1983
— Women's Prison Massacre * Warrior of the Lost World * Merry Christmas, Mr. Lawrence * Fire and Ice —
1984
— Where the Green Ants Dream * The Good Fight * Sheena —
1985
— Red Sonja —
1986
— Labyrinth —
1987
— Hamburger Hill —
1988
— Mujeres al borde de un ataque nerviosa (Women on the Verge of a Nervous Breakdown) * Salome's Last Dance —
1989
— Casualties of War * Tetsuo: The Iron Man —
1990
— The Sheltering Sky * La femme Nikita * I, the Worst of All
1991-2000
1991
— Naked Lunch * Slacker —
1992
— Full Contact —
1993
— Robin Hood: Men in Tights * The Eagle-Shooting Heroes * Demolition Man —
1994
— Pulp Fiction —
1995
— Tank Girl —
1996
— Emma * From Dusk Till Dawn * Fire —
1997
— Anaconda —
1998
— The Big Lebowski —
1999
— Office Space —
2000
— Supernova * Beat * Best in Show
2001-2010
2001
— Mulholland Dr. * Original Sin * Scary Movie 2 * A Beautiful Mind —
2002
— Blue Crush * Habla con ella (Talk to Her) —
2003
— Spring, Summer, Fall, Winter … and Spring * Whale Rider * A Mighty Wind —
2004
— Million Dollar Baby * Hotel Rwanda * Incident at Loch Ness * A Dirty Shame —
2005
— Crash * Wolf Creek * Princess Raccoon —
2006
— Feast * Letters from Iwo Jima * Shut Up and Sing * Children of Men * John Waters: This Filthy World * For Your Consideration —
2007
— Into the Wild * Persepolis * There Will Be Blood * The Bourne Ultimatum * Helvetica * The Diving Bell and the Butterfly * Encounters at the End of the World * Boot Camp —
2008
— Slumdog Millionaire * The Wrestler * The Spirit * Wanted * Ip Man * Not Quite Hollywood —
2009
— The Secret in Their Eyes * Los Abrazos Rotos (Broken Embraces) * Inglourious Basterds * Rampage * The Hurt Locker * The Bad Lieutenant: Port of Call New Orleans —
2010
— True Grit * Shutter Island * The King's Speech * Howl * 127 Hours * Kick-Ass * The Fighter * Tangled* Room in Rome * Resident Evil: Afterlife * William S. Burroughs: The Man Within * The Drawn Together Movie: The Movie! * American Grindhouse * Rubber * The Killer Inside Me * Percy Jackson and the Olympians: The Lightning Thief * The Final Girl * Iron Man 2 * A bout portant (Point Blank)
2011-2020
2011
— The Green Hornet * Battle Los Angeles * Sucker Punch * Hanna * Your Highness * Thor * Pirates of the Caribbean: On Stranger Tides * Bridesmaids * X-Men: First Class * Green Lantern * Horrible Bosses * Captain America: The First Avenger * The Rise of the Planet of the Apes * The Cave of Forgotten Dreams * Rio * Hobo with a Shotgun * The Three Musketeers * Super 8 * Harry Potter and the Deathly Hallows, Part II
|